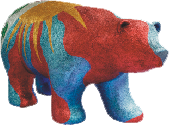 aumentar imagem / enlarge image
Português
Robert "Robalot" Hall nasceu em 1968 filho de pais ingleses/alemães e foi incentivado a apreciar arte desde tenra idade. Estudou arte e design gráfico em Londres, e depois artes de computador e comunicação digital na Central St.Martin's School of Art. Depois de uma carreira bem sucedida em efeitos especiais digitais em película, terminando como parte de uma equipe que trabalhou num filme nomeado para o Oscar de efeitos digitais, Robalot mudou-se permanentemente para Lagos, no Algarve para seguir a sua visão artística. Inspirado pelas tradicionais pinturas em areia de mandala dos monges tibetanos, combinadas com influências do reino digital, Robalot chegou à sua "Discodelic Glitter art", uma forma de arte de "espiritualidade rock and roll" do século XXI.
A interpretação de Robalot do tema "evolução" conduziu-o a apresentar uma fábula do urso polar na primeira parte do novo milénio. "Forçado a deixar o seu habitat nas minguantes calotes do Pólo Norte, os ursos polares emigraram para o sul, e encontraram eventualmente um novo repouso nas encostas cobertas de neve das montanhas dos Himalaias. Ali encontraram refúgio entre os isolados e gentios povos tibetanos, que lhes concederam uma existência calma. O urso polar, uma vez estabelecido no seu novo ambiente, começou uma evolução mística e mágica. Tal como a pele dos animais se adapta para reflectir o seu habitat, o urso polar achou já não precisar que esta fosse branca… ao invés, porque está agora tão confortável no seu novo ambiente, e sem nenhuma necessidade de qualquer forma de camuflagem, a sua pele evoluiu de uma maneira diferente. O urso da montanha tibetano que vemos aqui hoje embebeu a enorme riqueza cultural e espiritual do país a que agora chama casa, e esta identidade foi absorvida na sua pele. O sol amarelo representa a liberdade, felicidade espiritual e material, as faixas vermelhas os antepassados originais do Tibete, e o céu azul representa a protecção de acções virtuosas. Sobre o fundo branco das montanhas cobertas de neve, dois leões da neve sem medo e de vida espiritual e temporal unificadas, as três jóias supremas que representam Buddha, Dharma e Sangha, e mais uma jóia adicional de duas cores que representa a auto disciplina e o comportamento ético.
English
Robert "Robalot" Hall was born in 1968 of English/German parents and was encouraged to enjoy art from an early age. He studied Art and Graphic design in London, and then computer arts and digital communication at Central St. Martin's School of Art. Following a successful career in Digital Film Special Effects, concluding as part of a team working on a film nominated for a digital effects Oscar, Robalot moved permanently to Lagos, in the Algarve to pursue his artistic vision. Inspired by the traditional Tibetan monks sand mandala paintings, combined with influences from the digital realm, Robalot arrived at his "Discodelic Glitter art", a 21st Century "rock and roll spirituality" art form.
Robalot's interpretation of the theme "evolution" led him to present a fable of the Polar Bear in the early part of the new millennium. "Forced to leave its ever shrinking inhabitant of the ice caps of the North Pole, the Polar Bears emigrated south, and eventually found a new home on the slopes of the snow-capped Himalayan Mountains. Here they found refuge amongst the isolated and kind-hearted Tibetan people, who granted them a peaceful existence. The Polar Bear, once settled within its new environment, began a magical and mystical evolution. Just as all animals fur adapts to reflect its inhabitant, the Polar Bear found it no longer need to be white…. instead, because it is now so comfortable in it's new environment, and in no need for any form of camouflage, it's fur evolved in a different way. The Tibetan Mountain Bear we see here today has soaked up the enormous cultural and spiritual wealth of the country in now calls home, and this identity has been absorbed into its fur. The Yellow Sun represents freedom, spiritual and material happiness, The Red bands, the original ancestors of Tibet, and the blue sky represents the protection of virtuous deeds. Upon the white background of the snow clad mountains, two fearless snow lions of unified spiritual and secular life, the Three Supreme Jewels representing Buddha, Dharma and Sangha, and a further two colour jewel representing self discipline and ethical behaviour.